Warning: Undefined array key "file" in /var/www/wp-includes/media.php on line 1680


THIS IS YOUR BEST "No hassles with parking and traffic" OPTION for SATURDAY and SUNDAY only!
Bus Shuttle $5 per person round-trip, children under 10 years of age FREE.

PARK AT:
Treasure Bay, 10315 Paradise Boulevard. DROP OFF and PICKUP LOCATION. PAY inside CLUBHOUSE at TREASURE BAY.
Paradise Lutheran Church, 10255 Paradise Boulevard (Church Lot opens at 1pm on Sunday). Park and walk to Treasure Bay for payment and bus pickup and drop off
Shuttle runs every 15 minutes on Saturday, November 19th and 26th from 12pm to 11pm and Sunday, November 20th and 27th from 12pm to 7pm
Event Area Parking within walking distance of Sanding Ovations
Treasure Island Community Center, One Park Place @ 106th Avenue – metered parking
Treasure Island Park (Treasure Island Community Center off 104th Avenue) – $20 per day Event Parking – CREDIT/DEBIT CARDS. HOURS – 11/18, 12pm-11pm; 11/19, 8am-11pm; 11/20, 8am-7pm; 11/26, 8am-11pm; 12/27, 8am-7pm.
St. Petersburg Municipal Beach, Gulf Boulevard @ 112th Avenue – metered parking
Gulf Front Park, 10400 Gulf Boulevard – metered parking
Sandpiper Lot, Gulf Boulevard at 100th Avenue – metered parking
Treasure Island City Hall, 120 108th Avenue – metered parking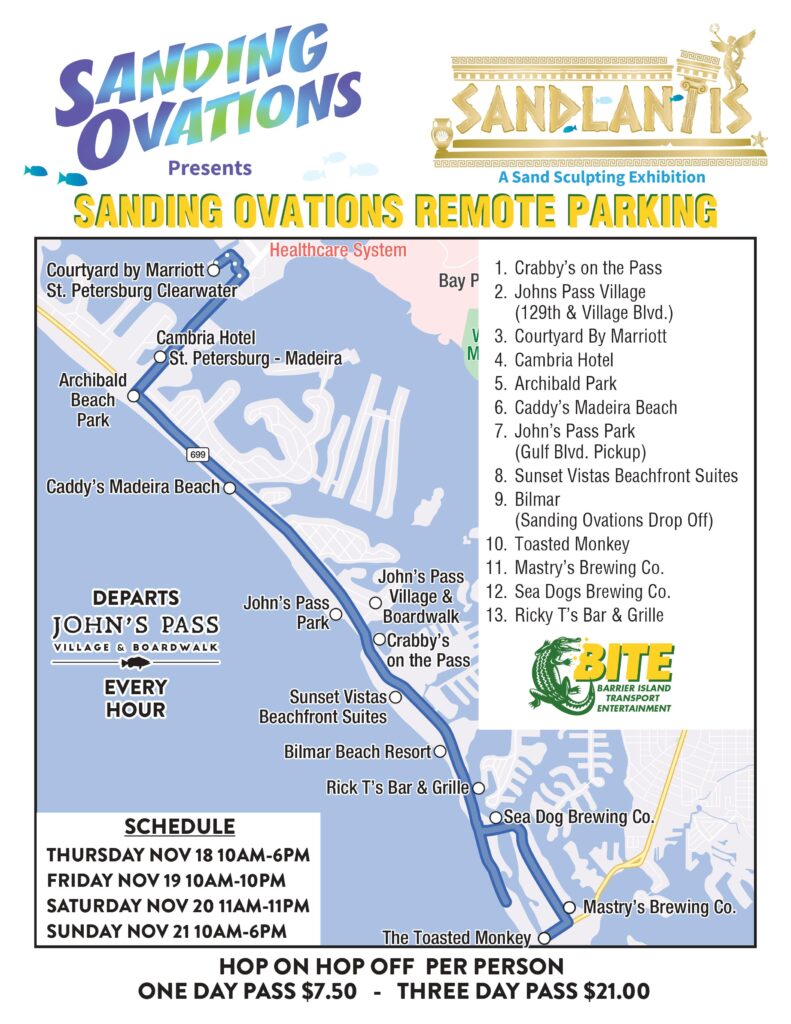 Click HERE to Buy BITE Trolley Tickets" https://bitetrolley.com/
Other Metered Lots throughout City — park and call a free beach ride.
Heron Lot, Bay Shore Drive and 75th Avenue, Sunset Beach
Tern Lot, West Gulf Boulevard at 77th to 79th Avenue, next to Sunset Beach Pavilion
Ring-Billed Gull Lot, West Gulf Boulevard at 81st Avenue, Sunset Beach
Brown Pelican Lot, West Gulf Boulevard at 88th Avenue, Sunset Beach
Sunset Vista Lot, 120th Avenue and Gulf Boulevard, Sunshine Beach
White Egret Lot, 126th Avenue, Sunshine Beach
Event Location:
[/vc_column_text][/vc_column][/vc_row]